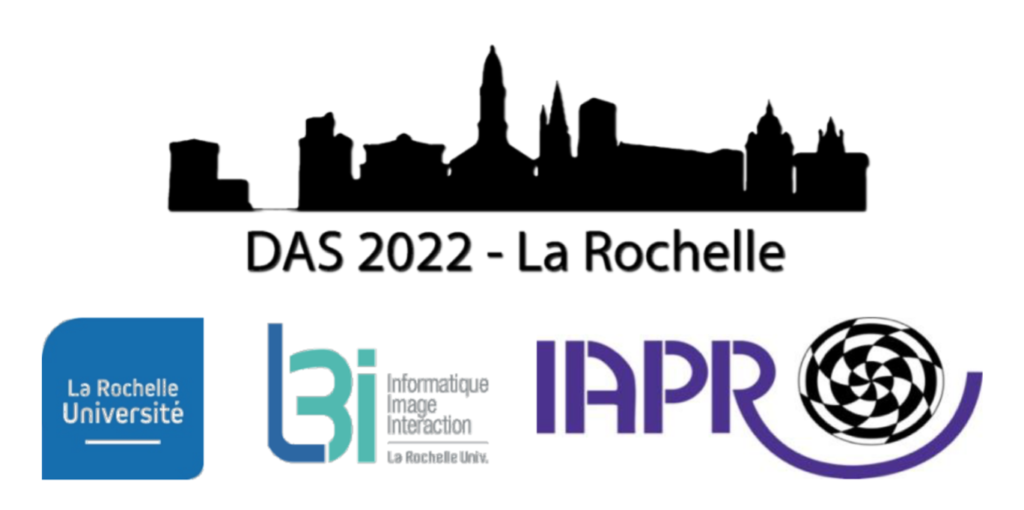 Introduction
The industrial track is a one-and-a-half-hour round table with 5 industry speakers. We'll use this opportunity to informally share the points of view of major figures from various domains and countries about academia-industry partnerships and the future of the document processing. The session will be interactive, and we actively encourage the audience to participate.
Venue details
Monday, 23 May, 16:30 – 18:00 (UTC+2 / Paris local time)
Agenda
After a short introduction of the panel members and their affiliated companies, we'll discuss the following questions:
At each DAS and ICDAR event, we discuss the evolution of document use. How do you see the evolution of document use, both today and in the near future?
Speaking from the vantage point of your own business, what are your feelings about market needs? What are the significant challenges and perspectives with regard to document technologies?
How should the scientific community and industrial actors partner to confront these challenges? How can the scientific community make itself more attractive to industrial partners?
Panel
Adam Karwan, EY, online
Adam works as an AI/ML implementation manager in EY Global Services, Warsaw. He focuses on natural language processing models and on the improvements of the EY Document Intelligence Platform as well as AI quality and risk management for global EY projects.
He is a former employee of the R&D departments of Fiat in Turin, Samsung in Warsaw, Boeing in Tricity and Groupon in Katowice. Moreover, Adam has several years of experience in research and teaching at the Silesian University of Technology and Warsaw School of Economics. His main interests are machine learning, computer vision (MSc) and 3D reconstruction (PhD).
Montaser Awal, IDNow Group – ARIADNEXT, online
A computer engineering graduate, Montaser specializes in machine learning through a thesis in handwriting recognition. He has consolidated his expertise in document analysis and image processing through his work as a postdoc fellow at INSA Lyon and LORIA.
Currently, as Director of the R&D Center of Excellence at IDNow Group – ARIADNEXT, he supervises research activities related to document analysis, biometrics and fraud detection fields.
Angus Fong, GOODNOTES, on site
Since August 2021, Angus has been a Senior Machine Learning Engineer at GoodNotes in Hong Kong, a leader in notetaking software. He works on document analysis and recognition as well as on online handwriting recognition.
He graduated from Yale University, taking the position of Research Assistant in the Yale Visual Cognitive Neuroscience Laboratory before working as a Software and Machine Learning Engineer at Google in Seattle. At the latter role, he was part of a project focused on rapidly developing ML-driven monitoring frameworks for Google product user workloads, with the focus of ensuring site reliability.
Jérémy Espinas, ESKER, on site
Jérémy is a Senior Engineer in the R&D department of Esker, and leads research and engineering efforts in predictive analysis, as well as in document automation from natural language processing and image classification. He assembled and leads a team that develops new machine learning features, writes new patents and publishes scientific reports on these topics.
Before joining Esker in October 2014, he obtained a PhD in Computational Geometry and taught at the University of Lyon in Computer Science and Mathematics.
Alexandre Cornu, IMDS, on site
Alexandre is Chief Technical Officer at IMDS Software, a leader in document analysis systems, and is based in Paris and Montréal. He previously worked for 5 years as a Research Engineer in France, working on performance and speed optimizations in the bio-computing field, then joined IMDS Software as a Technical Sales Engineer in Montréal in 2011.
After working on IMDS's biggest projects, covering areas including banking, insurance and government, in 2015 he accepted the CTO position with respect to the future of the IMDS software offering.
This role comprises scientific research and experimental development activities, as well as service activities. Research topics cover fields such as security, numerical identity, authentication, classification and recognition of all kinds of documents, as well as facial recognition and license plate reading.
In conclusion
This short session provides an opportunity to highlight the current major issues and perspectives in the industry. We hope that the exchange of views and information between the audience and our panel will be of interest for both industrial and academic attendees. Moreover, we expect to foreground ideas about how to enhance industry-academia partnerships going forward.
Robin Mélinand (MyScript)
Vincent Poulain d'Andecy (Yooz)
Industrial Chairs (DAS 2022)